How to submit your website to the Google search engine. in other words how to index your website in Google search engine
Now Google webmaster tools know as Google search console so first u sign up it. Google is world no 1 in Search engine so after submitting Google your website comes automatically comes in yahoo search also you easily submit your site in Bing search engine.
After submitting & indexing your website in the Bing search engine your website page come in the search results of the Bing search engine. Below detail, I am given you briefly.
How to best way submit a website to Google Search Engine
Step 1 :  Sign in Google Search Console
Step 2 :  Add Url Prefix  where you write your website name Than click on continue
Step 3 :  Go to Your WordPress Website Dashboard Click on General  Site Address(URL) : www.example.com
Step 3 : Verify your ownership
In This step, First you Install Insert header footer plugin in your word press website, Then copy code and open Insert header footer plugin and paste in <Head>  than  click on save.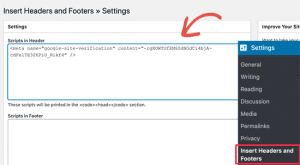 Step 4 : Then click on Verify, Than msg comes your Ownership Verified.
Another method:  You install Yoast Seo Plugin & Click on Active plugin  Open it  Click on  Webmaster tools  Go  Google verification code : add your code  & Save.  If you have bing code or yandex code u paste it so also you verified on this website.
For WordPress user For creating Sitemap you must need Google Xml sitemap plugin Go plugin then add this plug in click on active So xml sitemap generate automatically.
Example My Sitemap :  www.webhostingworld.com/sitemap_index.xml
How to Add Website in Bing Search Engine
Step 1 : Sign up & login in to Bing webmaster tool  click below
https://www.bing.com/toolbox/webmaster
Step 2 : If you are already verified with Google search console than Import your website & skip verification
Step 3 : Submit Your Sitemap
Step 4 : Fetch as a Bing bot
Click on Diagnostics & Tools, Enter URL and click FETCH.
After Indexing how to know your website add-in type in Google search     Site : www.webhostingoffer.org
So come all your website pages, so u know all pages are indexing in Google search engine.
After Indexing website you Can Do :
Sign up Google Analytics  For every day how traffic comes in your website
Add your Rss Feed to Feedburner
Create your account in all social media like facebook, twitter, pinterest, Instagram, etc   and add your website in profile. Or create your page & share everywhere.
Read Related Article
World best Bluehost web hosting full review
World best Hostinger web hosting full review
World best Siteground web hosting full review