Best Marketing Plugins for Elementor Store
These days, WooCommerce has become one of the best platforms to build online shops, with millions of websites already using it. What makes WooCommerce unique is the rich list of different plugins, which can help you to add new features to your online shop quickly.
Together with the Elementor Pro, these plugins can be a great choice to run an online shop business. In this article, we will take a look at some of the best marketing plugins for Elementor Store and WooCommerce.
Table of Contents
Top Elementor Store Marketing Plugins
ELEX WooCommerce Dynamic Pricing and Discounts
Multichannel for WooCommerce: Google, Amazon, Ebay & Walmart Integration
WooCommerce Points and Rewards
MC WooCommerce Wishlist
Retainful – WooCommerce Abandoned Cart Recovery
WooCommerce Product Reviews Pro
Conclusion: Best WooCommerce Marketing Plugins
Top Elementor Store Marketing Plugins
To build an online shop using Elementor, first, you need to buy the Pro version, which offers a unique widget named Elementor WooCommerce builder. With marketing being an essential part of all online shops with the potential to increase sales, we have decided to introduce the best WooCommerce and Elementor Store marketing plugins in this article.
Dynamic discounting is among the most tried and true marketing strategies you can implement in your online shop. This plugin is a popular choice for setting up product and category level discounts on your online shop. You can choose to set a flat or percentage discount as a rule for discounts within your shop.
Once the customer's cart meets the discount requirements, the discount will automatically be applied. As the customers will not have to search for coupon codes, this may be more effective in increasing the customer experience in your online shop. Depending on your shop's needs, you can define various discount rules according to the product weight, quantity, and other factors.
Key Features
Category rules for defining discounts on all products in a category.
Individual product rules to set discounts on selected products.
Possibility to set various discounts (flat discount, percentage discount, fixed price for each unit).
Possibility to determine the expiry date of the rules (from date to date).
Price: Free, $79.00 for the premium version
Using this plugin, you can allow customers to show their interest in out-of-stock products. By doing so, you will identify the most demanded products in your online shop. The plugin offers an option to let these customers know when you restock that particular product.
Once installed and activated, users can join the waitlist for out of stock products. Once available, the plugin sends an email to the customers on the waitlist, encouraging them to buy the product.
Key Features
Adding the "Join Waitlist" button to the product page
Notify customers of when they can buy the product which was out of stock
Users can edit all of the waiting lists in their account
Price: 49$ per year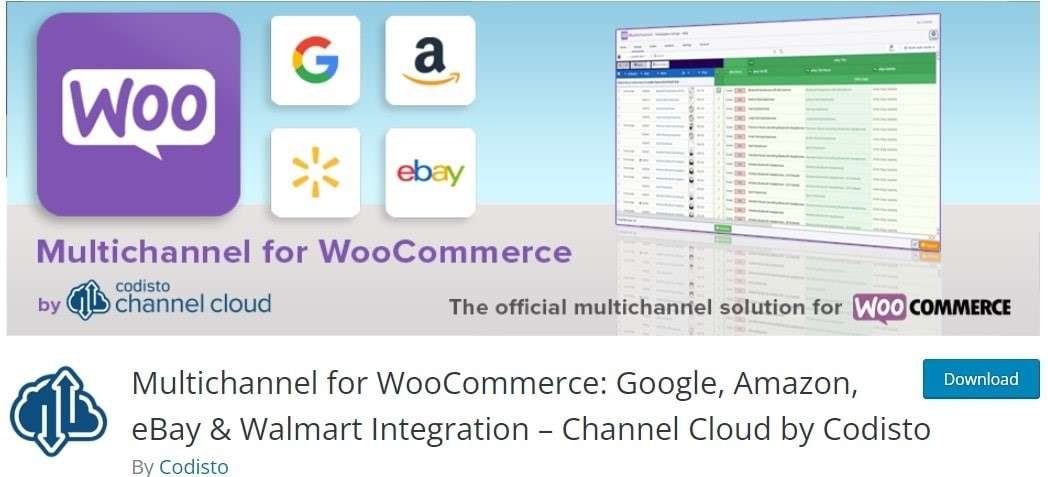 By selling on Amazon and eBay, you can significantly increase your products' overall reach and availability. With this plugin, you can quickly and easily link eBay and Amazon with your retail strategy.
The Multichannel for WooCommerce plugin will quickly help you list all WooCommerce products on Amazon and eBay. You can build new listings on Amazon and eBay and connect your products to existing listings on these channels. It is also possible to set different pricing or fulfillment conditions for Amazon and eBay listings.
Key Features
Take Amazon, Google, eBay and Walmart orders on your WooCommerce admin.
Easily create new listings or connect existing listings in bulk on different retail channels.
Supports other channels, including eBay and Google, with integrated currency control
Price: 29$ for the starter plan, has a 14-day free trial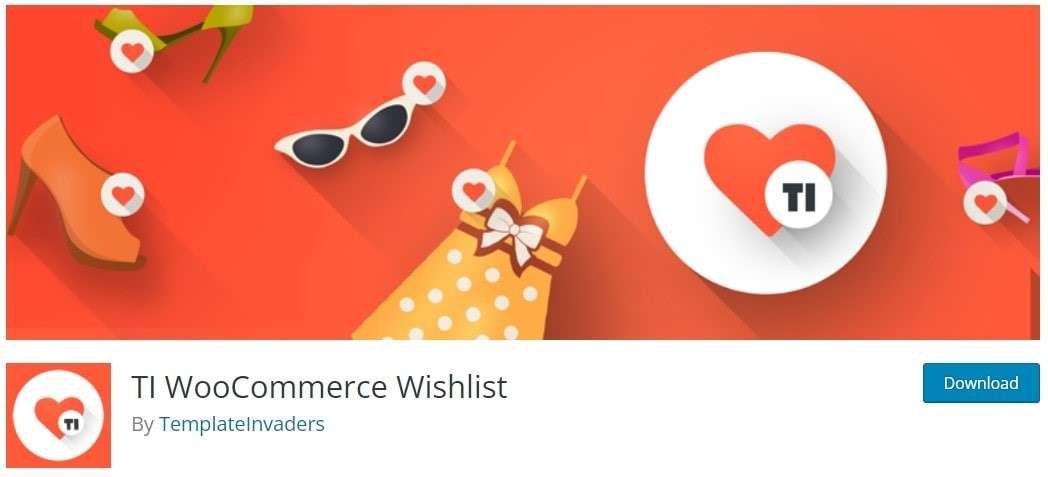 As you may already know, providing a wish list on your website is an excellent way to enhance conversions on your shop. When customers don't buy, they may add a product to the wish list rather than simply leaving their shopping cart.
Doing so would improve the chances of your customers buying on a future visit. Moreover, given an option, customers are also more than likely to share their wish lists with friends and family. That, too, can boost the reach and popularity of your products.
Key Features
Share Wishlists on social media
Promotional emails for products in wishlists to push customers to buy
Monitor customers' wishlists and the popular products
Price: Free, Premium starts at 79$ for a single site
One of the best ways to encourage prospective customers to make a purchase is to give them offers and discounts. This gets all more exciting when users have a chance to earn these discounts, for example, through a rewards and points system. With this plugin, you can quickly configure a loyalty program in your shop with no coding required.
For example, users can earn points by buying products, leaving reviews for them, etc. By redeeming these points, your customers will get deals and discounts. You have perfect control over the system, and there are many settings to play with.
Key Features
Define points at product, category and overall level, according to your strategy
Set a maximum discount value when redeeming points to maintain your profitability
Increase sale rate by encouraging customers to make more purchases
Price: 129$ per year
The Facebook for WooCommerce plugin adds lots of options to your online store, with the most prominent of them selling on Facebook and, more importantly, on Instagram, one of the most famous social media outlets these days. This plugin also lets you incorporate Facebook Messenger and WhatsApp in the shop to better support your customers.
In addition, you will be able to better optimize your Facebook ads and target users who had already visited your online shop before. These all make Facebook for WooCommerce a great marketing plugin out there for WooCommerce shops.
Key Features
Connect WooCommerce shop to Facebook and Instagram so you can target your website visitors again
Sync all your WooCommerce products with Facebook using Facebook shop integration
Enhance your Facebook campaigns by optimizing ads for increased conversions
Price: Free
For many years, the key focus of any marketing effort has been the growth of email lists. As your email list grows, you can target more users and more prospective customers. The WP Optin Wheel plugin offers one of the most innovative ways to expand your email list.
Using this plugin, you can easily build a wheel of fortune in your online shop, offering coupons, discounts, and lots more to potential customers. You can build multiple wheels using the plugin's preset themes. In addition, you can use the plugin to easily collect emails for your Mailchimp account to create your email list.
Key Features
Collect more emails for your email list
Implement gamification in your WooCommerce shop
Set when to show the popup, for example, when the user wants to leave the site
Price: Free, Premium version starts from 49$
This plugin will generate a real-time feed of your WooCommerce products that will synchronize with the Google Merchant Center. That means any changes you make to your WooCommerce shop will be updated in real-time on the Merchant Center as well.
You can pick the required fields in line with Google's guidelines. The plugin will create an accurate feed with all your product information. Besides product data, the plugin also lets you send product reviews to Google Merchant Center. This is extremely useful from a marketing point of view because reviews are a critical factor in conversion.
Key Features
Option to create a product feed for Bing in addition to Google
Connect your Google Merchant Center account to AdWords to start building ads for the products
Providing complete data to Google to increase campaign performances
Price: 79$ for a single site
MC WooCommerce Wishlist is still one of the best channels for online shops to increase sales. While there are many wishlist plugins out there for WooCommerce sites, the one from MoreConvert is considered by many to be among the best.
This plugin has many features which help make your shop's plan more interesting for affiliates. For example, you can permanently reward users whenever the users on their list make a purchase. This plugin has many features, like setting different commission rates for various products or affiliates.
Key Features
Get detailed statistics of your affiliate program and gain a clearer picture of your affiliates' performance
Automatically approve new affiliates
Define coupons for affiliates that they can use to get a commission when the coupon is used
Price: Free
The plugin is one of the most feature-rich options on the market to enhance your existing WooCommerce coupon strategy. The plugin will help you generate bulk coupons, automatically issue them and apply advanced restrictions to them.
It will also help you offer free coupons, shopping credits and gift cards. WooCommerce smart coupon plugin also allows you to apply beautiful designs comfortably and effectively manage your overall coupon strategy. Altogether, this plugin can boost your conversions by offering several advanced features to deal with coupons.
Key Features
A complete option to help you execute and manage a successful coupon strategy
Create and send thousands of coupons at a time
Apply flat-rate or percentage discounts, or free shipping via coupons
Link coupons to specific products
Price: 99$
Pop-ups have a massive potential for increasing the sale rate of an online shop. This Popup Maker plugin is one of the best options on the market, always up to date, and as you can see, more than 700,000 people are using this plugin.
And it has a rating of 5 stars which tells you something about the quality and stability of this pop-up plugin. You can use almost any shortcode from any other plugins like Mailchimp or Gravity Forms. You can also put a contact form in the plugin. Everything which can be called with a shortcode can be used in this plugin.
Key Features
Ability to create different popups, including contact form, upsell and cross-sell, lead generation, email opt-in and other types.
Possibility to set different triggers to open popups, including click button, automatically, upon leaving the site, etc.
Integration with popular form builder plugins such as Contact Form 7, Gravity Forms, Mailchimp for WordPress, etc.
Price: Free, with different premium extensions.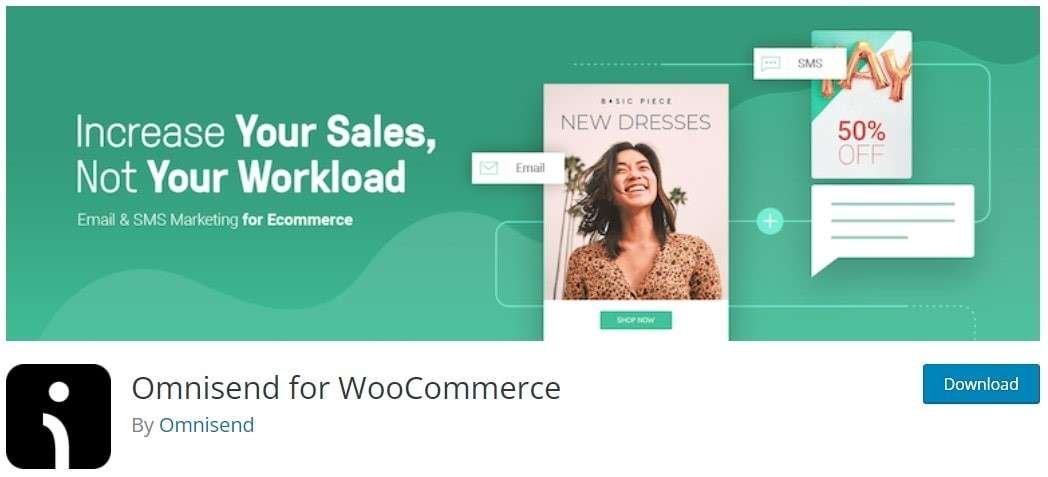 Omnisend is a marketing platform designed to help you improve your workflow while boosting revenue opportunities. The plugin has lots of features, including automation, segmentation, and other channels such as SMS marketing instead of just helping to send emails.
With Omnisend, you can create personalized email campaigns without any coding effort. Using customizable email templates, you will create unique designs for your emails. Moreover, it features seamless e-commerce integration with a product selector, product recommendations, discount codes, scratch cards, etc.
Key Features
An excellent option for building and managing email campaigns
Increase sales rate with the help of Omnisend's marketing automation capabilities
Use one platform to manage SMS and email campaigns
Price: Free, Premium starts at 16$ per month
Having a good understanding of what is happening on your site and your users' behavior is essential to manage your online shop properly. Using this plugin facilitates the integration of advanced Google Analytics event tracking features into your WooCommerce shop.
Therefore, you would monitor various metrics such as average order value, conversions, product or category-specific sales, etc. In particular, it has a straightforward setup process, in which all you have to do is enable enhanced e-commerce tracking on Google Analytics. Furthermore, you can exclude your shop admin team from the analytics data.
Key Features
Provides tracking and key statistics and analytics of your online shop
Rule out admin visits to gain more accurate customer data
Support display ads
Price: 79$ per year
Product recommendation is a great way to boost sales in your online shop, just like what Amazon and other big e-commerce businesses do. What's perfect about WooCommerce is that you can add such sophisticated features with minimum effort and money.
Now for the product recommendations, you can use this plugin to show such recommendations according to their viewing habits, purchase history and frequently purchased products together. This is done by logging such user instances by the plugin with its algorithm and creating those recommendations.
Key Features
Increase upselling and cross-selling in your online shop
Recommend products based on purchases or views
Increase sale rate and average order value
Price: 79$ per year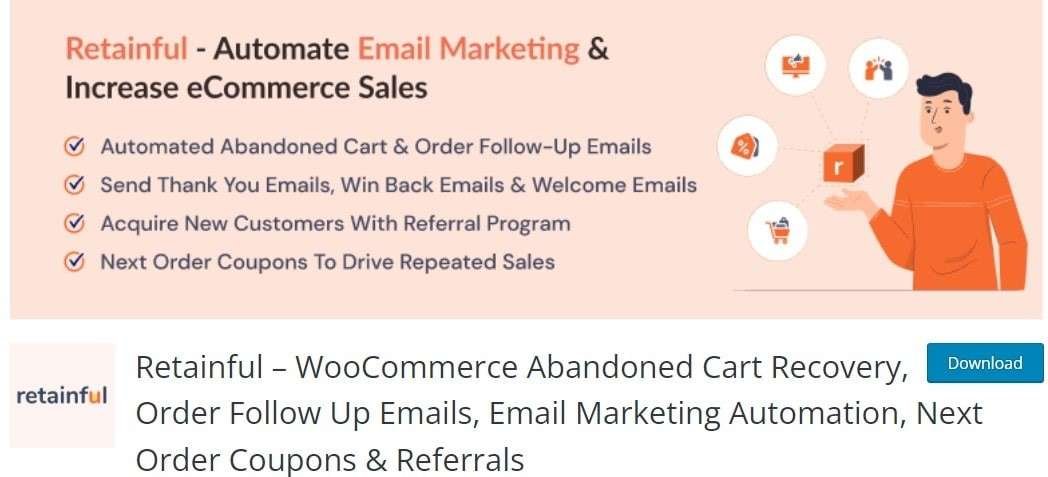 This plugin can help you to reduce cart abandonment on your online shop and encourage repeat purchases from your customers. The plugin will collect the email addresses of your site's users and then automatically send a set of emails according to a specified schedule.
Doing this will save you a lot of time and effort manually because abandoned shopping cart recovery emails can be automatically sent based on your set plan. Furthermore, it will automatically stop sending emails when an abandoned cart is recovered.
Key Features
Send out reminders for incomplete purchases starting 30 minutes after adding the product to the cart
Provide a retrieval link in the abandoned shopping cart recovery email
Drag and drop editor to quickly customize email templates
Price: Free, premium starter plan from 19$ per month
Imagine you have bought something from an online shop; within a few hours after you have got your order, you receive an email from them, asking you if the product was just what you were looking for. This strategy works perfectly to keep your customers engaged and encourage them to make repeat purchases.
While this may sound like so much work for an online shop owner, but to automate your email communications, you can simply install the WooCommerce Follow-Ups plugin, and it will do the rest for you.
Key Features
Create emails quickly and easily using the WordPress editor
Send personalized follow-up tweets to customers
Obtain detailed analysis reports to see how your campaigns are performing
Price: 99$ per year
One perfect way to build hype around your products and increase sales is by adding the pre-order option to your WooCommerce online shop. If you're looking for an easy way to do this with no coding, then the WooCommerce Pre-Orders plugin is just made for you.
By adding a button to the product page, the user can pre-order the product, either by making the payment at that time or waiting for when the product will be in stock. The plugin also offers the option for you to charge customers a fee for making the pre-order on your shop.
Key Features
Know how much a potential product can sell even before it is available
Option to set up pre-orders for a fee or free
Option to display a countdown timer for the time remaining to product release
Price: 129$ per year
As its name suggests, this plugin links your WooCommerce online shop with your MailChimp account. MailChimp has become one of the best marketing automation systems over the years and offers lots of features to its users. Once installed and activated on your online shop, it will sync your customers' data and send them to the MailChimp account.
From there, you can quickly run targeted email marketing campaigns for your online shop. This plugin also helps reduce cart abandonment as it has a feature to send follow-up emails and another for product recommendations.
Key Features
Configure marketing automation on your WooCommerce shop
Use your WooCommerce discount codes in email campaigns
Segment your customers by purchase history and frequency
Price: Free
We all know that product reviews can significantly increase the chances of customers making purchases in online shops. Usually, users like to read a review from another customer who had bought the product before purchasing it. This gives them some assurance that what they are buying is what they've been looking for.
While by default, WooCommerce has some options for product reviews, if you want to add more features to your online shop's product reviews, this plugin can be a great help. For example, you can let customers add photos or videos to their reviews. This plugin also automatically sends an email to the customers after they purchase something, asking them to leave a review.
Key Features
Add question and answers to your product reviews
Give discount to customers for reviews they post on your website
Price: Free, 49$ per year for premium version
Beeketing is one of the best marketing plugins for WooCommerce out there that can help you manage all of your marketing tasks at once. This plugin has a large collection of integrated applications, some of which are premium, and these apps extend the functionality of your WooCommerce shop and help you to take advantage of the higher conversion rate at all stages of your marketing funnel.
According to the plugin developers, it can help you increase conversion rate, customer loyalty and average order value. This plugin can also help promote repeat purchases and recover abandoned carts in your online shop.
Key Features
Increase the checkout rate and avoid cart abandonment by offering different types of incentives
Upsell and cross-sell relevant products based on the customer's cart, bundle products and sell them at a total discounted price
Price: Free, different prices for premium apps
Conclusion: Best WooCommerce Marketing Plugins
In this article, we shared some of the best marketing plugins for Elementor Store and WooCommerce in different categories. To increase your sale rate, you can start by using some of the marketing plugins, including those about email marketing or coupons and discounts. You can add other plugins based on your business needs over time.
While there are many other Elementor Store marketing plugins out there, you first need to know what you need from such marketing plugins to decide on them. Do you know any other WooCommerce marketing plugins that don't have a place in this article? Let us know in the comments section below.
References
https://www.adwordsrobot.com/en/blog/21-best-marketing-plugins-for-woocommerce
https://www.wpfixit.com/woocommerce-marketing-plugins/
https://optinmonster.com/best-woocommerce-plugins/
https://sukiwp.com/woocommerce-marketing-plugins/
https://www.madebytribe.com/top-18-plugins-grow-your-woocommerce-store/
https://woocommerce.com/product-category/woocommerce-extensions/marketing-extensions/
https://wordpress.org/