Today, our children's protection is a significant issue in this interconnected world more than ever before. Many new technologies allow parents to monitor their children in real-time and anywhere in the world. For many parents, devices such as the GPS smartwatch are becoming increasingly popular. However, you can also download other phone tracker apps that monitor your child's location and control how they interact with the smartphone.
Parental app for iOS, Android, and Web
FamiSafe parental control app gives you complete control over how your kids use their smartphones. You can track their location, be notified when they enter or leave a site (such as home or school), restrict their use of the phone at certain times of the day, restrict their use of specific applications, or browse certain areas of the web content.
All of this is possible remotely from a simple and uncomplicated dashboard that you can use remotely from your smartphone or your computer's web browser. You need to follow a few simple steps to set up your children's phone and yours.
How does work?
The app lets you view their activities in two ways:
Content Notifications:  sends you alerts whenever your children enter or leave a specific location (location tracking) and when something unusual happens to their phone.
Restrict or Disable Phone Use: This allows you to view and block the content on your children's smartphone so that they cannot view, read or listen to the content. It also warns you if someone sends your children inappropriate or abusive material.
The first phase of the features uses active location tracking to determine your children's current location and send you geofence-enabled alerts. You will also know when an unexpected error or something unusual happens to your children's phones.
In the second phase of features, needs to install a managed profile on your children's Android or iOS devices. This profile allows the app to control certain content, apps, and features on your children's gadgets, as well as the way organizations, control certain content, and apps on company-owned devices.
Set up parental control app
You can easily set up parental control app on your and your children's devices by following the steps given below:
Download and install and register your account at.
Sign in to your smartphone account and set it up as a Parent.
Now go to your child's smartphone and install the app on it.
Sign in to your account and set up the device as a child.
Once both devices are configured, you will be able to control all features on your children's devices remotely, using your parent app.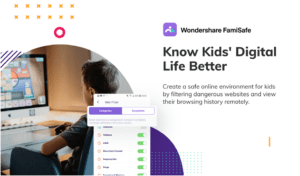 Features of parental control app
Track your children's location (GPS Tracker for Kids)
It is the front and center of your dashboard. Provides a map view of the current or last location recorded by your children with quick shortcuts for some practical actions, such as setting geofence notifications, custom schedules, app blockers, and screen time limits.
Suspicious text notifications, you will receive notifications of potentially harmful or inappropriate content, abuse, etc., in your children's text conversations.
Block apps on children's smartphone (Child Mode for Android, iOS)
Track and manage your children's online activities
Features such as Smart Scheduler, Screen-Time controller, etc. You can block applications depending on their age or specify specific schedules when the block is active. You can define screen time limits drawn for one particular time or depending on one particular location.
Block direct websites and social media posts
By filtering web content, lets you block certain content and websites that fall within certain categories. By enabling filters for a specific type, can block content on your children's devices, which meet those categories.
There is also the feature of finding explicit content you see and informing inappropriate videos that your children may be watching on YouTube. You can link your child's YouTube account to, and the app will follow the watch history of videos that may not be appropriate.
Similarly, on Android, can interact with your children's social apps and track certain words used in instant messaging apps and social media platforms. Texts containing harmful keywords will be downloaded to the parent device and notified to take that appropriate action.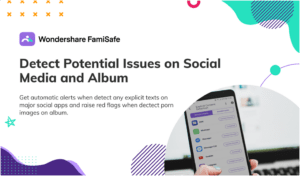 MONTHLY PLANS AND SUBSCRIPTION BY: 
can be purchased on a monthly, quarterly, and annual basis. The price for one month is $ 9.99, and you can use this monthly plan on up to 5 devices.
The basic plan starts from lastly19.99, the annual plan costs $ 59.99, and you can use up to 10 devices per account.  
Note: Requires you to install a managed profile on your child's phone for this feature to work.
Conclusion
Wondershareapp offers all of the features and security you need, all of which you can control securely and flexibly remotely from your device once the app is appropriately set up on your children's devices. There is no need to ask your child for calls every time you suspect something unusual.
While one can find many tracking apps in the app stores, only a few apps, like, offer the perfect feeling.  parental control app provides creates the ideal solution for parents who want to keep track of their child's activities.