How to Fake GPS Location On Your Phone
Many applications use your current location to provide geo-specific features, such as Snapchat filters, pickup, and delivery services, or even location-aware games such as Pokemon-GO. Depending on where the user lives, these types of applications may vary. There are times when you may want to spoof your GPS location to avail of specific geo-specific service or get the latest news regarding android or iPhone that have not yet been released where you live.
At the same time, some people may want to improve their online privacy as it is a significant concern these days for many people considering every application records their daily movement. Social media applications also use your location to optimize and filter content in your feed to maximize the user experience, so this is another scenario where you can keep your location private to keep privacy intact.
So, as you know the benefits of why keeping your location confidential can be beneficial for you, let's look at ways to do so. Changing the location is a tricky business, especially on iPhone when compared to android. To fake GPS location on iPhone is much harder. If you keep a tab on the current state of fake location applications on iOS or android when you write " How to change GPS location on my phone," you would know that it is kind of grim as there are no legit applications present on the Appstore. You will find a lot of apps claiming to do so, but most of them are scams and try to leak or expose your data.  But there is an app available online that allows you to change/swap your location to the desired place and provides complete security and reliability while providing a user-friendly interface.
Use DrFone-Virtual Location
This method ensures that you spoof your iPhone's location without jailbreaking your phone. This method requires a third-party application known as Dr.Fone-Virtual Location, which provides complete security and ease to spoof or fake your GPS location. Here is the process to do it.
Download DrFone- Virtual Location (iOS) software on your computer, then install and run the virtual location changer.
Click on "Virtual Location" from all the options and have the iPhone connected to the computer, then click on "Get Started."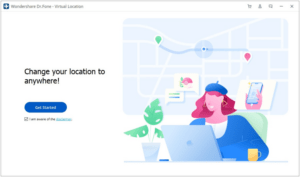 In the new window, your original location will be shown. If the location is not accurately shown, click on the "Center on" icon in the lower right part to get the precise place.
Activate the " teleport mode " by tapping on the icon in the upper right corner.
The system now understands where the desired place to teleport is. Click "Move Here" in the pop-up box. The location will change directly to the selected location.
This is the most dependable and easiest way to spoof or fake your GPS location on an iPhone and is our personal favorite as it is easy to use and has examples of how to perform the process step by step.
When we talk about the android platform, there are many ways to spoof or fake your GPS location compared to the iPhone, as the android platform provides us with a lot of room for modifications and changes. At the same time, this freehand is not available on iPhone. One of them is "Fake GPS location," which teleports your GPS location to anywhere in the world in just two clicks. Be cautious as faking your GPS location is tricky and might lock it to the selected location, and it may take a lot of time and effort to revert to normal.
One of the android applications used to spoof GPS location is "Fake GPS Location," and here is how to use the application.
Using "Fake GPS Location" on Android Phone :
Download the application "Fake GPS Location" from the play store.
Enable Developer's option. If you haven't already done so, enable your developer's option on the phone. Go to Settings, scroll down to the bottom of the settings, and go into the system settings to allow the developer's options.
Select "mock location application."Once inside the developer options menu, ensure the toggle is turned on at the top of the list. Now select the mock location application option and choose Fake GPS Location.
Fake your Location.After doing all the above steps, open the Fake GPS Location application and pin your desired location on the map. Then hit the "GO" button, and your area will be spoofed.
And Lo Behold! You have spoofed your location and now can enjoy whatever Snapchat geo-filters you need to use or any location-specific application you need to use by spoofing your GPS or trick your friends and family by changing your current location to the desired one.
Conclusion
This concludes today's topic of "how to fake GPS location" on the phone, whether iPhone or Android. Spoofing an iPhone is more complicated than android, but both software platforms can fake the GPS location.
Many location changer softwares are present on Appstore and Playstore, but a lot of them are scams for GPS spoofing. Usually, GPS spoofing is used to switch locations to access location-related information or play a location-based game. This article has seen the best application out in the market if you're going to spoof or fake your GPS location, known as "Dr.Fone-virtual location."
It enables you to fake your GPS while having complete control of your device and its GPS location. This is also our top-rated and recommended application in the market, verifying the safety and ease of the user.